Listen to another great episode with industry leaders in real estate.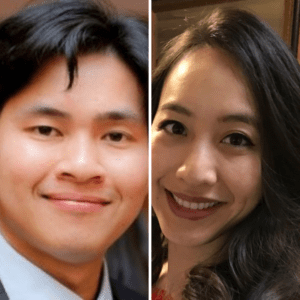 In this 4 part series, Seyla and Aileen highlight how they transitioned from house hacking to multifamily syndications and why education about real estate investing is critical for the long term.
Things you will learn in this episode:
[00:01 – 05:47] Opening Segment
● Let's bring Seyla and Aileen to the show
● Seyla and Aileen share their backgrounds
● Why understanding finance is important for any industry
"The experience that we rented our house, we used that experience in real estate. And when we moved into passive investing, it's helped a lot to have that experience." 
[05:48 – 16:41] Total House Hacking and Investing in Single-Family Properties  
● Seyla and Aileen talk about 'total' house hacking
● Why finding the right tenant is critical
● From house hacking to single family
● Passive investing
[16:42 – 21:59] Moving to the Multifamily Space
● Doing a lot of research beforehand 
● Picking the right sponsors
● The books they read to get comfortable with multifamily syndications
Things you will learn in this episode:
[00:01 – 08:43] Why Your Support System Matters in Real Estate Investing
● The impact of getting support in real estate
● Dealing with self-doubt
"If you're investing with somebody, just make sure that you're always choosing the right sponsor"
[08:44 – 16:28] Real Estate Investing in the Middle of a Pandemic
● Changes brought by the pandemic
● The current situation in California
● Schooling during a pandemic
● Real estate investment advice for the present time
● Be conservative
● Get yourself educated
[16:29 – 23:00] The Advantage of Having a Mentor
● Why having a mentor is important if you're starting out
● There's always a mentor out there for everyone
Things you will learn in this episode:
[00:01 – 09:55] What It's Like Being a Woman in a Male-dominated Industry
● The impact of finding the right mentor
● Aileen describes working in a male-dominated industry
● I share my thoughts on being a female in the real estate industry

"You don't focus on the negative side of things. When you get that one yes, it's like a huge win, and it overcomes everything else."
[09:56 – 21:46] Staying Motivated in Real Estate
● Why Seyla and Aileen made the leap to the multifamily space
● Syndication is a 'team sport'
● Seyla and Aileen talk about their podcast
● Learning from their guests about the syndication space
● How they keep motivated
● Don't focus on the no's
Things you will learn in this episode:
[00:01 – 09:27] Learning More About Real Estate by Connecting with People
● Transparency in educating people goes a long way
● Seyla and Aileen talk about their podcast
● The impact of having conversations with people
"There is that big part of me that believes that if we educate as many people as we can on the types of people that are investing in real estate, it can change the way people view it."
[09:28 – 21:33] Infinite Banking and Other Things to Learn About Real Estate
● There's so much to learn out there
● We talk about the book 'Hidden Investing'
● Seyla and Aileen's favorite part of being in real estate
● Learning from different ideas
● We talk about tax in real estate
LEAVE A RATING AND REVIEW: help someone who wants to explode their business growth by sharing this episode.
Be sure to follow us across all social media platforms and don't forget to join our Facebook community!
©2021. The Academy Presents. All Rights Reserved.