Listen to another great episode with industry leaders in real estate.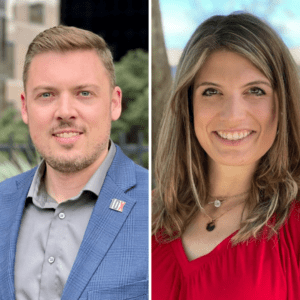 In this 2 part series, Nate and Bethany talk about how to achieve financial freedom while being able to make a positive impact on others! Nate and Bethany share their 'why' in investing in real estate and their passion for helping other people achieve their financial goals. They also share their thoughts on the current state of finance in general and how they manage their finances during uncertain times.
Things you will learn in this episode:
[00:01 – 11:11] What's Your 'Why'?
● Welcoming Nate and Bethany to the show
● They share their backgrounds
● Being the "Cashflow Couple"
● Where they are in their real estate journey
● The 'why' that keeps them going
"It doesn't always come down to how much you make or how you make your money. It's what you do with what you make."
[11:12 – 20:35] Making a Big Impact on Others through Real Estate
● What it actually takes to make an impact
● It's not about how much you make, it's what you do with it
● We talk about the infinite banking concept
[20:36 – 29:10] Managing Your Finances during Uncertain Times
● Inflation and keeping money in the banks
● Making sure there's flexibility
● Nate and Bethany talk about The Miliare Group's services
Things you will learn in this episode:
[00:01 – 11:06] The Real Estate Joint Venture Model
● Nate and Bethany talk about Real estate JV (Joint Venture)
● How real estate JV works
"I think there's a big difference between being broke and poor. Broke is a choice, poor is a mindset."
[11:07 – 27:11] Making a Positive Impact Through Next-Level Wealth
● What they love about passive investing and asset management
● The difference between being broke and poor
● The motivation of giving back to people
● What's your "why"?
● It's not all rainbows and butterflies
[27:12 – 30:56] Closing Segment
● The importance of having financial literacy early on
● Closing words
LEAVE A RATING AND REVIEW: help someone who wants to explode their business growth by sharing this episode.
Be sure to follow us across all social media platforms and don't forget to join our Facebook community!
©2021. The Academy Presents. All Rights Reserved.