REI ROCKS! PODCAST
Listen to another great episode with industry leaders in real estate.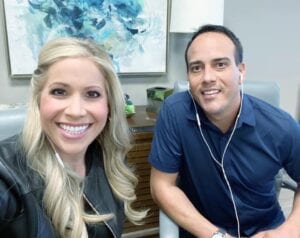 In this 2 part series, Kelly and Anselmo highlight some ways to boost your NOI (Net Operating Income), specifically in saving water and sewer expenses.

Leave a Review on Itunes!
Part 1
Things you will learn in this episode:
[00:01 – 06:14] Opening Segment
● Let's bring Kelly Stinson and Anselmo Torres to the show
● Kelly talks about her background
● Anselmo shares his background story
● Leak alert program
"The water and sewer rates have outpaced inflation, and they are not going to stop increasing."
[06:15 – 15:59] Boost Your NOI by Water Efficiency
● Kelly talks about the pilot stage of this leak alert program
● Anselmo shares about their pilot project on a property in San Antonio
● The partnership of Leakaware and SAS
● The reason and urgency to focus on water conservation through the installation
● Dealing with piping problems in 60s properties
● Kelly talks about daily water consumption
● The increase of water inefficiency since the pandemic has started
● The problem and potential issues with old properties
[16:00 – 22:19] The Flapperless Toilet
● Kelly talks about the flapper-less toilet
● Why SAS install the Niagra graded product as their partner
Part 2
Things you will learn in this episode:
[00:01 – 09:04] Financial Returns on Your Investments
● Kelly shares some stories about technology fails
● Anselmo talks about why so many owners skip over the fixing and replacement of their toilets
● Toilet replacement is one of the quickest financial returns on your investment than any other thing on the property
● Anselmo talks about the number of spendings that you can avoid just by fixing the leak on your toilet
● The importance of calling professionals to handle old properties
"A lot can be achieved just through replacing your inefficient fixture."
[09:05 – 21:53] Cost Segregation
● The upfront costs and benefits calculation
● Free conservative proposals
● Kelly answers some questions about cost segregation in the IRS
● Faucet and shower head upgrade fixtures
● Most people are not supportive of water savings shower heads because they are getting the experience of a very poor water pressure
● Final words from Kelly, Anselmo, and me
You can connect with Kelly on LinkedIn and Facebook.
You can connect with Anselmo on LinkedIn.
LEAVE A RATING AND REVIEW: help someone who wants to explode their business growth by sharing this episode.
 5/5


Listen on Apple Podcasts
Listen on Google Podcasts
Listen on Spotify
Be sure to follow us across all social media platforms and don't forget to join our Facebook community!
©2021. The Academy Presents. All Rights Reserved.